AAFCPAs Annual Nonprofit Educational Seminar & Reception
AAFCPAs' Annual Nonprofit Educational Seminar is considered by many nonprofit CFOs and Executive Directors to be the premier nonprofit finance educational event of the year! Watch the video below to see for yourself, and learn what others have to say about why they attend every year.
2018 Pictures | Attendee Poll |Video Highlights | 2018 Agenda | 2018 Venue | Learn More | Subscribe
Learn More
AAFCPAs' Annual Nonprofit Educational Seminar is a 1-day event for nonprofit executives, in 2018 it took place on April 26 at the Newton Marriott.
This event is designed to help nonprofit CFOs, Executive Directors, and Finance Executives keep abreast of accounting, tax, and regulatory changes that may impact their organizations and always features actionable takeaways to improve efficiency, effectiveness, and performance controls.
In 2018, AAFCPAs welcomed over 250 attendees from throughout the region. AAFCPAs' Nonprofit Educational Seminar helps to educate, challenge, inspire, and offers you a chance to connect and collaborate with peers.

2018 Agenda
8:00am – 8:45am | Registration & Breakfast
8:45am – 9:00am | Welcome & Introductions
9:00am – 3:30pm | Program Topics range from 15 minute nano sessions to 60 minute panels
3:30pm - 4:30pm | Cocktail Reception & Peer Networking
Program Topics & Agenda
9:00am - 9:50am | AAFCPAs Regulatory Update: Accounting Standards
AAFCPAs Nonprofit Assurance Practice leader Matt Hutt, CPA, CGMA, Partner and Amanda Pelcher, CPA, Manager will provide attendees with specific implementation guidance for new major standards, including: the Nonprofit Financial Statement Framework, Revenue Recognition, and Lease Accounting. Matt and Amanda will provide operational insights and best practice recommendations on these complex technical accounting areas, allowing clients to confidently apply the standards with greater efficiency and ease.
9:50am - 10:40am | Keynote Speaker: Marylou Sudders, Massachusetts Secretary of Health & Human Services
Marylou Sudders leads the largest executive agency in state government, overseeing a $22 billion state budget, twelve agencies and 22,000 public servants. EOHHS services directly touch the lives of slightly more than 1 in 4 residents of the Commonwealth.
Sudders' responsibilities include the state's MassHealth (Medicaid) program that provides health coverage to 1.9 million low income or disabled residents, chairing the board of the state's health care marketplace (The Connector), the Autism Commission and, the Center for Health Information and Analysis (CHIA) Oversight Council; and, co-chairs the Governor's Interagency Council on Homelessness and the state's first Governor's Council to Address Aging in Massachusetts. Sudders is leading the Commonwealth's efforts to address the opioid epidemic and efforts to reform and strengthen the Department of Children and Families.
Professionally trained as a social worker, Sudders has been a public official, private non-profit executive, advocate and college professor. She served as the Massachusetts Commissioner of Mental Health from 1996 to 2003. Prior to her appointment as Secretary, Sudders was an associate professor and chaired the health/mental health program at Boston College's Graduate School of Social Work. She also served as an expert with the Department of Justice as a behavioral health expert.
10:40am - 11:00am | Networking Break
11:00am - 11:15am | CFO Survey Report: Behind Every Thriving Organization is a High-Functioning CFO
AAFCPAs, in collaboration with The Boston Chapter of Financial Executives International (FEI-Boston), conducted a survey of over 250 Chief Financial Officers in an effort to capture what issues are currently 'top of mind' for senior financial executives in the Northeast region of the United States. We asked CFOs to provide their thoughts, opinions, and experiences in an effort to glean insight into how the role may be evolving, and why. The role of the CFO continues to become increasingly complex and strategic, and as the role evolves, so do the expectations of executive leadership. In this nano-session, AAFCPAs' Matthew Boyle, Partner, will reveal the key findings from the 2017 survey, and shares insights about what the future looks like.
11:15am - 11:35am | How to Right-Size Your Finance Function
Over one third of CFOs surveyed report human resource limitations and team bandwidth as the PRIMARY challenge in meeting the expectations of their CEO. Nonprofit finance departments are often juggling the day-to-day accounting and bookkeeping responsibilities alongside more complex and time consuming tasks, such as: HR-related activities; optimizing revenue; mergers & collaborations; data & cyber security; managing the IT investment decision-making process; business process improvements; implementing new accounting standards; and staying ahead of industry benchmarks. This diversity requires constant evaluation of situational or cyclical resource needs, as well as consideration of technological and outsourced options, economic and funding changes, and workforce aptitude & synergies. Rightsizing should be proactive and a constant part of the process of managing an organization, because what is right for the organization today may not be right tomorrow. Rightsizing is a creative, and dynamic process of adjusting one's organization to be the most efficient, effective, competitive, and profitable it can possibly be. AAFCPAs Partner Janice O'Reilly CPA, CGMA, a former CFO, will provide attendees with best practices recommendations for right-sizing your finance function to efficiently address evolving organizational needs.
11:35am - 11:55am | Unraveling the Mysteries of Employee Benefit Plan Costs
Clients often ask "How much does my employee benefit plan cost, and how do costs relate to compliance and risks?" Plan costs are often buried and difficult for plan sponsors to truly figure out. In order to meet their fiduciary responsibilities, plan sponsors must ensure they "pay only reasonable plan expenses…" among other things. Plan sponsors take on substantial personal risks. As a decision-maker, you are a fiduciary, personally liable for the prudent management of someone else's money. So, how can you best satisfy your legal obligations as a fiduciary? AAFCPAs Wealth Management's Kelli Grew, CFP®, Wealth Advisor and AAFCPAs' Davide Villani, CPA, CGMA, Managing Director will provide insight for attendees into how to identify plan expenses, comply with fiduciary responsibilities, and minimize risks.
11:55am - 1:15pm | Lunch & Networking
1:15pm - 1:30pm | What's New at AAFCPAs
AAFCPAs Matthew Boyle, MBA, Partner will share details about the firm's growth.
1:30pm - 1:50pm | Regulatory Update: The Tax Cuts and Jobs Act, and What Nonprofits Need to Know
The Tax Cuts and Jobs Act, known officially as H.R. 1, (The Act) represents a dramatic overhaul of the U.S. tax code, and includes widespread changes to the tax rules affecting charitable nonprofits. AAFCPAs Joshua England, JD, LLP, Trust, Estate, Tax and Nonprofit Attorney will provide an overview of how The Act impacts nonprofits, including guidance on operational changes nonprofits may need to make right away. Josh will also provide insight on how The Act has changed the tax benefits donors may receive from making a charitable contribution so nonprofits may better anticipate how private donations could be impacted.
1:50pm - 2:10pm | Cybersecurity in 2018
Techniques of cyber-criminals continue to evolve. A recent study shared by InfoSecurity Magazine reports "Cyber-criminals have adopted an organizational shift in how they carry out their work, implementing corporate best practices and establishing professional businesses to increase the efficiency of their attacks against enterprises and consumers." This means advanced persistent threats specifically targeted at your organization and employees. AAFCPAs will present this important, and informative session again this year, recognizing that IT security requires continuous improvement, and organizations must stay vigilant, and learn & adapt over time. AAFCPAs Cyber Security Pros Vassilis Kontoglis and Peter Sebilian take a look back at Cyber incidents in 2017, including: Equifax, WannaCry, Campaign Hacks, etc. Vassilis and Peter will discuss what went wrong, and how nonprofits may mitigate these risks. Additionally, we will share insights on cybersecurity trends, what to expect in 2018 and beyond, and recommendations for specific actions that will reduce the most risk.
2:10pm - 2:30pm | Break & Networking
2:30pm - 3:30pm | Nonprofit Executive Panel: Creativity in the Pursuit of Sustainability
There's nothing like being in a room full of like-minded peers to inspire creativity! In this closing panel session, we will take advantage of this unique opportunity to leverage the collective expertise and experiences of peers to curate new ideas to help nonprofit clients improve their approach to sustainability. AAFCPAs Co-Managing Partner Carla McCall, CPA, CGMA will moderate this interactive panel of nonprofit executives, who will share their real-life stories of adaptability in pursuit of long-term financial and programmatic sustainability. From mergers and collaborations, to creative revenue streams and unique cost-cutting methodologies, these determined nonprofits are making strategic decisions to survive and thrive. These pivotal decisions have enhanced the services they are able to provide their constituencies, solved leadership succession challenges, and perpetuated their ability to fulfill their missions. This session will inspire and challenge attendees to think about their abilities to sustain financial health and mission impact over time.
Panelists: David Shapiro, President/CEO, MENTOR; Tim Barrett, CFO, Pine Street Inn; Jennifer Van Campen, Executive Director, Metro West Collaborative Development, Inc.; Troy Siebels, Executive Director, The Hanover Theatre.
3:30pm - 4:30pm | Cocktail Reception & Peer Networking
Seminar attendees are invited to end the day with us for complimentary cocktails and hors d'oeuvres at the closing reception, hosted in the riverside (tented) outdoor pavilion overlooking the Charles River. This event is a wonderful opportunity to bring clients together, and the reception will provide an additional opportunity to network with your nonprofit peers.



Event Details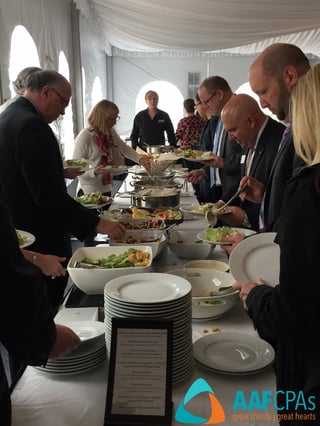 Date: Thursday, April 26, 2018
Venue: Newton Marriott, 2345 Commonwealth Avenue, Newton, MA
Time:
8:00am: Registration & Breakfast
9:00am: Program
3:30pm: Peer Networking & Reception with complimentary cocktails & hors d'oeuvres
Cost: Complimentary to nonprofit executives
Additional Details:
Up to 5 CPE credits available
Continental breakfast and lunch served
Opportunities for networking with peers over lunch, during networking breaks, and at the closing cocktail reception
In order to conserve paper, most materials will be offered in electronic format only, provided via a link. Please remember to bring a device to view them if you would like. Complimentary wifi will be available.

Registration
Registration is now closed. Please reach out to events@aafcpa.com for more information. Subscribe to alerts to receive next year's invitation