We Ask CFOs "What is on Your Mind?"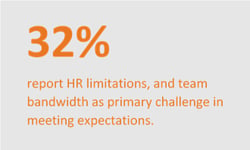 The role of the CFO continues to become increasingly complex and strategic, and as the role evolves, so do the expectations of the CEO. Although the CFO/CEO relationship is generally strong, 60% of respondents reported moderate to high levels of difficulty in meeting the expectations of executive leadership.
"Sophisticated CFOs will continue to be propelled forward by the rapid pace of change in business, and must seize opportunities presented by factors such as: big data, advanced & emerging technology, and globalization."
Key Findings
Success in the position is still closely tied to the relationship with the CEO/executive leadership.
There are growing expectations from diverse organizational constituencies.
CFOs are having more of an impact across departmental lines.
CFOs currently struggle the most with human resource issues, combined with challenges in accessing meaningful data, on-demand.