SOC Reports Defined
Which SOC Report is Right for You?
This infographic provides a brief overview of the main differences between SOC 1, SOC 2, and SOC 3 reports. These insights will help ensure you are providing your management, customers, and prospective customers with the optimal levels of attestation without paying for more than you need to.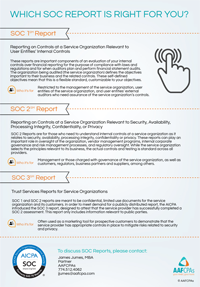 AAFCPAs has a team of dedicated professionals with extensive experience providing cost-effective and comprehensive SOC reports to a variety of service organizations. Our team members have a deep understanding of internal controls from a design, implementation, and testing perspective.
Organizations such as yours receive requests from customers for assurance in a number of areas. SOC reports are intended to meet the needs of a broad range of users who need information and assurance about the controls at a service organization that affect the security, availability, and processing integrity of the systems the service organization uses to process users' data, and the confidentiality and privacy of the information processed by these systems.
Speak to someone today about your SOC Reporting Needs:
This PDF Explains:
The major differences between the SOC Reports available.
The audience that each report is targeted for.
FAQ
How Can I Download?
Fill out the short form on the right side of the page to access this valuable download.